Kevin Bailer, Tenor
Kevin started singing barbershop at the tender age of ten, having first been introduced to this unique style of 4-Part A Capella Vocal Music by his mom & dad, Don & Norma Bailer, who also performed barbershop with Sweet Adeline's & SPEBSQSA. He formed his first men's quartet as sophomore while attending Mooresville High School, singing lead in the barbershop quartet in the hit musical, "Music Man". For the next three years, his quartet became very popular in and around town and was honored to perform at every MHS music event every year, culminating in his school's graduation ceremony.
Kevin first joined the Barbershop Harmony Society (BHS) in his mid-twenties, performing with the Pride of Indy Chorus for three years, took a hiatus, and then later re-joined the Greater Indianapolis Chapter, of BHS, "Circle City Sound" (CCS) in 2015. Kevin currently serves on the Board of Directors for CCS and is also honored to serve as Vice President of Membership. He also enjoys singing & performing with his son, Derek, brother, Kurt, and nephew, Joe along with the rest of his CCS brothers.
Kevin grew up in Waverly, IN where he currently resides with his lovely wife Donna. Kevin and Donna are both recently retired and love to spend their free time with their children, grandchildren, traveling, & of course with his "Brothers of a Chord Quartet"!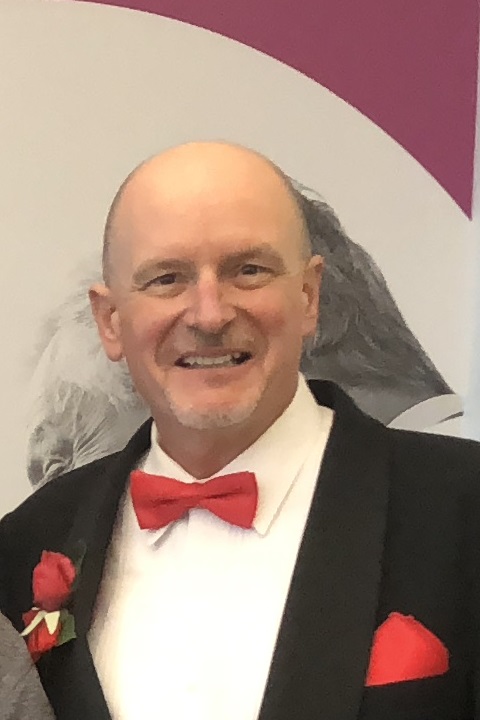 Kurt Bailer, Lead
Kurt comes from a musically gifted family having performed Barbershop and Gospel music at a very early age together with his mom, dad, sister & older brother, Kevin. Kurt & Kevin's Dad, Don Bailer was a life-long avid barbershopper, having joined BHS in 1968 and performed for many years with the Pride of Indy which later became Circle City Sound.
Kurt's love of barbershop harmony grew and in high school he and three of his buddies formed a quartet and sang for fun and around town and in 2015, Kurt joined BHS and Circle City Sound.
Kurt has been employed by Eli Lilly for 30 years. In 2004 he married the love of his life, Polly and together they have a 13-year-old son Brock who also loves to sing and tag with his family as well as other friends in the CCS family. While Brock stays extremely busy with schoolwork, singing and performing piano recitals for his school's various music programs, Kurt hopes that someday Brock will form his own quartet and be able join him on stage performing with the rest of his CCS Brothers!
David Pygman, Bass
David Pygman is a professional voice actor with over a decade of experience in live entertainment, radio, advertising, educational productions, cartoons and more. David's natural baritone voice is clear, dynamic and energizing. At the same time, he is able to shape it into several characters and impersonations.
David is best known as the public address voice of Major League Baseball's Tampa Bay Rays from 2007 to 2009. Returning to his Hoosier roots, David records from a professional studio in central Indiana. David's natural baritone voice can be heard regularly at Victory Field as the public address announcer for the Indianapolis Indians, at various events at Lucas Oil Stadium, and on air with WCBK. Additionally, David's wide vocal range allows him to cater to each client and deliver the message they desire.
Jeff Broadfoot, Baritone
Like the other members of BOAC, Jeff started singing and performing at a very early age with his family. Jeff's Father, Linn Broadfoot was a charter member of the "Daniel Boone Chorus" which later became "The Ambassadors of Harmony". Together with his dad & two brothers they would sing barbershop, gospel, pop, and folk songs at numerous family gatherings and officially joined his dad on the risers in 1976 at the age of 16.
Jeff sang with the Daniel Boone Chorus until 1978, when he left for college to attend the University of Missouri, at Columbia, MO (MIZZOU). Since the university had no local BHS chapter, as a Freshman, Jeff tried out for and was accepted into the Premier Vocal Jazz Ensemble, "Singsations", singing and performing with them for the next four years. In 1981, "Singsations" was selected to represent the United States in a cultural exchange program, called "Friendship Ambassadors" where the group toured the Soviet Iron Block Countries of Romania & Bulgaria. The trip was a blast and culminated in the ensemble bringing home the gold medal at the finale music festival!
After college, Jeff took a job in Indianapolis and missed barbershop so much, he joined the Pride of Indy and sang with them from 1983 through 1985. After taking a hiatus to raise a family the barbershop bug caught Jeff again, so in 2016, he joined the rest of his CCS Brothers once again on the risers and has been singing and performing with them ever since. Then in 2017, good fortune struck yet again when he became good friends with Kevin, Kurt, & Larry and formed "Brothers of a Chord" Quartet and has been singing and performing with them ever since.
Jeff owns his own business, and together with his wonderful wife of 33 years, Kathleen, they reside on the south side of Indianapolis. Jeff & Kathleen have three grown children who are also musically talented and recently became the proud grandparents of a baby boy & baby girl! Jeff & Kathleen feel blessed to have such a wonderful family and look forward to the opportunity to babysit and sing with their grandkids!